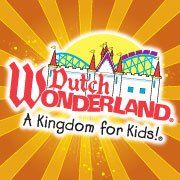 A Kingdom For Kids! It's not just a slogan -- it's a commitment to young children and their families that beyond our castle walls is a place just for them called A Kingdom For Kids!, where family fun is proclaimed by royal decree. Since opening on May, 20, 1963, Dutch Wonderland has consistently been recognized as a premier family amusement park and has been voted one of the Top 5 Best Kid's Park in the World by Amusement Today magazine. Having your birthday party, other celebrations, family outing, and Scouting events at Dutch Wonderland is easy with catered options, picnic lunch boxes, and cabana rentals. With attractions like ChooChoo Charlie, Frog Hopper, Dragon's Lair, Duke's Lagoon and so much more, Dutch Wonderland is a favorite amongst children of all ages!
New for 2012! Merlin and friends host a magical buffet-style breakfast inside the Dutch Wonderland Castle. Meet Princess Brooke, the Dutch Wonderland Knight, Duke and of course, Merlin as you enjoy a yummy breakfast fit for royalty! Food selections* include pancakes, scrambled eggs, sausage links, bagels, fruit, cereal, milk, juice and coffee.
Time: 9:00am – 10:00am (service ends at 10:00am)
Location: Merlin's Restaurant (located inside Dutch Wonderland)
Dates: Sundays through September 2, 2012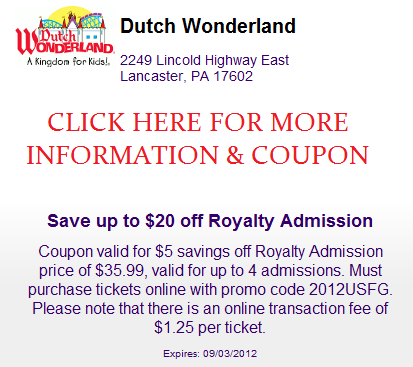 Click -->
http://pittsburghkidsguide.com/coupon.php?bid=5293&dealid=949
I will be bringing you more deals from the
US Family Guide as a Moms Connect Member
, keep following and follow
Pittsburgh Kids Guide on Facebook
just in case I miss something awesome! There is also a widget on the Left Side Bar for you to see if there are any deals as the current time.
**Disclosure: I may or may not receive tickets to the above mentioned location as a US Family Guide Moms Connect member and Pittsburgh Kids Guide Blogger. No other compensation was received. All opinions are my own.