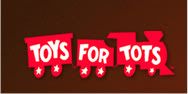 I am trying to get everything up and running for this local portion of Z's Space...it is just taking me a little longer than I had thought.
The Bantam Marine Detachment would like to announce that we will be kicking off our 2011 campaign on October, 15 2011 by delivering our collection boxes for donations throughout the community.
Tuesday, November 1, 2011 at 9 a.m. we will begin taking enrollment for this year's campaign. Enrollment will end on Monday, November 30, 2011 at 4 p.m. To enroll in Toys for Tots please call 724-841-0431 Monday through Friday from 9 a.m. - 4 p.m.
We will be accepting children ages newborn - 12 that are not enrolled in any other Christmas Toy Programs.
PHOTO IDENTIFICATION IS REQUIRED OF ADULTS PICKING UP TOYS AS WELL AS BIRTH CERTIFICATES FOR ALL CHILDREN ENROLLED. AT THE TIME OF TOY PICK UP, THESE ITEMS WILL BE VERIFIED AGAINST INFORMATION PROVIDED DURING REGISTRATION.
The Bantam Marine Detachment looks forward to serving the community by helping less fortunate children enjoy the miracle of Christmas once again in 2011.
The pick up date is Friday, December 9th, from 9 to 4. However, the location has been changed, it is now located in the open store front next to Old Country Buffet, instead of by Sam's club.